Recordings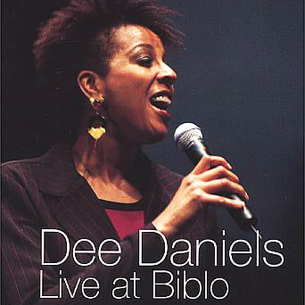 Live at Biblo
Genre

Jazz / Jazz Vocals

Release Date

2006
DVD - Live performance of Dee with the Jack van Pol trio, recorded in Belgium. 12 great tunes - two with Dee on piano, intimate club setting. Bonus interview and photos included.
Sort Reviews by: Date | Rating
Comments
1





5

by out of John Stevenson

Live Review

Review: Loyal fans and newcomers to Dee Daniels now have the added opportunity of enjoying her unique gifts in the art and craft of jazz song through her first, and truly panoramic DVD, Dee Daniels Live At Biblo. In a career path that has taken her from musical domiciles in the United States, various capitals in Western Europe, and presently, Vancouver, Canada, together with recording/performing stints with a virtual Who's Who of jazz celebrities, this DVD allows us to take pause and glance back in retrospect at what has, so far, been a remarkable aesthetic journey. My first encounter with Dee's arresting vocal prowess goes back to 1999, when I had the pleasure of reviewing the critically acclaimed Love Story (3XD). I was immediately struck by the transparent sincerity and maturity of her delivered lines, Dee's very apparent gospel groundings, and the deep, deep, blues flavouring on many of the tunes on that important recording.