Recordings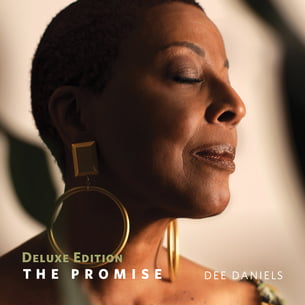 The Promise
Genre

Gospel / Inspirational

Release Date

2021
Individual Tracks
02 One Moment In Time.mp3
11 Love Is The Answer.mp3
12 One Moment In Time (Guitar).mp3
13 I Want Jesus To Walk With Me.mp3
The Promise is Dee's 13th album recorded as a leader. In her own words, "This is my best work yet and I'm so excited to share it with everyone!". The CD has received critical acclaim worldwide: Western Canadian Music Awards - Spiritual Artist of the Year; Global Music Awards - Album, Contemporary Gospel, & Female Vocalist; JAZZIZ Editors' Choice Top 10; POP Magazine (Germany) - Album of the Year & #5 in the Top 50 Albums of 2022. The cd's eleven original songs were "gifted" to Dee via meditation while going through treatment for breast cancer. Stylistically, they have led her back to her first music, Inspirational/Gospel. The songs are personal messages that are to be shared with the masses in hopes of offering inspiration, healing, guidance, hope, and above all, love.
Reviews -

5

/5 from

9

reviews Write A Review
1





5

by out of

George W. Harris

Jazz Weekly

Review: Vocalist Dee Daniels gives a musical testimony about what God's done in her life and offering true solutions to today's climate in an uplifting album that turns every day into Sunday. She rotates with a core team of Felton Offard/g, Bobby Floyd/p, Tim Fullerton/b, Dartagnon Gunn/dr, Bill Coon/g, Dave Pierce, and Sal Ferraras/perc with a mix and match of background singers and strings (arranged by John Clayton, Dave Pierce, and Dee herself). Daniels hits the pulpit and gives witness on "I Am Forgiven" and gets the choir rollicking for "Love Is The Answer" while pleads to the Almighty on "My Prayer". She's relaxed and convincing on "One Moment In Time" and puts her spirit into the big beat of "Grateful" and the gospel fested "The Promise". She shows her romantic side on the soul fest of "Choose Me" and cozy "Dance With Me", but this is a lady who wants you to know that of "Faith, Hope, and Love", that love is the greatest of all.
2





5

by out of

Wycliffe Gordon

Review: I woke up around 4:30 AM and said to myself, "Let me listen to a few tracks from Dee's new CD." I listened to every track in order. I couldn't stop! By the time I got to tracks 4 and 5, I was full and my eyes were watering from Dee singing to me and telling me her story...which is somehow MY story. Every song, every word, every moment...a true "soul" music record, as in music for the soul, music for all souls. This CD is another great musical presentation by our queen of voice, Dee Daniels. It strikes another chord in that it puts all in perspective and answers the question "For what do I live?" Now I know the answers. The music, compositions, arrangements, and performances are all splendid. The message in this CD is a perfect display of why we chose to do music in the first place, to connect one to another and to celebrate the gifts given to all of us from the MOST HIGH. Thank you Dee for reminding me." Wycliffe Gordon, Trombonist, composer, educator, arranger, recording artist
3





5

by out of

Jeff Tyzik

Review: "The Promise is a monumental spirit filled recording from one of the most unique and amazing singer songwriters on planet earth. Dee's musical recounting of her spiritual journey swept me up in its beauty and power. The recording is beautifully produced and full of great musical artistry. It's a pleasure to experience this recording on every level." Jeff Tyzik, Conductor (Rochester Philharmonic, Dallas, Detroit, Oregon, & Florida Symphony Orchestras), Arranger, and Comnposer
4





5

by out of

Bobby Floyd

Review: All I can say is WOW! I just listened to the recording for the first time. I can't put into words how moving and inspirational these songs are. Dee, I know you meant everything you sang from you're heart... it reached me and I know others are going to feel the same way. Congratulations! I hope we have an opportunity to perform some of these songs live sometime in the future. Bobby Floyd, Pianist and organist (on The Promise CD)
5





5

by out of

Regina Carter

Review: "I'm trying to figure out what to say and where to start, words feel like they just get in the way. Although The Promise was born out of Dee Daniels's personal journey, the recording is an incredibly beautiful, encouraging, all-embracing and uplifting gift! Dee's dynamic and powerhouse voice is so full of emotion and the rest of the group is all up in there. I am totally moved by this record. Thank you for sharing Dee!" Regina Carter, Jazz and classical violinist, recipient of the MacArthur "Genius" Award and Doris Duke Artist Award, composer, recording artist, educator