Recordings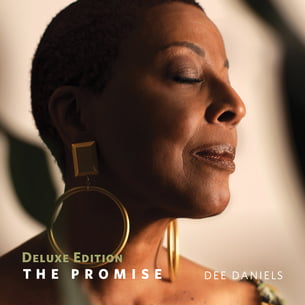 The Promise
Genre

Gospel / Inspirational

Release Date

2021
Individual Tracks
02 One Moment In Time.mp3
11 Love Is The Answer.mp3
12 One Moment In Time (Guitar).mp3
13 I Want Jesus To Walk With Me.mp3
The Promise is Dee's 13th album recorded as a leader. In her own words, "This is my best work yet and I'm so excited to share it with everyone!". The cd's eleven original songs were "gifted" to her via meditation while going through treatment for breast cancer. Stylistically, they have led her back to her first music, Inspirational/Gospel. The songs are personal messages that are to be shared with the masses in hopes of offering inspiration, healing, guidance, hope, and above all, love.
Reviews -

5

/5 from

9

reviews Write A Review
1





5

by out of Naima Shamborguer

Review: So beautiful and full of the beautiful sprit that Dee has. Moving
2





5

by out of JS

The Promise

Review: As a Christian, the music on The Promise ministers directly to me. The whole package is very well crafted. And wow, Dee Daniels wrote all of that wonderful music too. Impressive! The opening song, Choose Me, is very compelling. Love the string arrangement on Love Inside (sounds like John Clayton's handywork). Ditto the bluesy treatment (nice opening guitar playing) on Grateful. I went to church for Wednesday night prayer meeting and back on I Am Forgiven. But most of all, Dee's direct and inspirational testimony on Healed speaks into the soul of anyone who has had that experience of deliverance; into the spirit of anyone afflicted with illness and disease. Thank you Dee for sharing your wonderful gifts! John Stevenson United Kingdom-based writer and broadcaster.
3





5

by out of Dr. Lynn J. (Doc) Skinner

Review: Dr. Dee Daniels has it all. She has the most incredible range imaginable. Her ability to reach the listener is unparalleled in today's world. This time Dee truly sings from her heart and soul. One listen and you can't stop because her message is so powerful. I promise you, her music in her cd, The Promise, will touch your heart and soul. Dr. Lynn J. (Doc) Skinner Founder, Lionel Hampton Jazz Festival University of Idaho
4





5

by out of Russell Malone

Review: "I've had the good fortune to play with Dee Daniels on several occasions. I have also recorded with her. People in the know have always been aware of her wonderful abilities as a vocalist. But she's quite the composer as well. The songs on this recording are beautifully constructed, they tell her story, and they are personal. Bravo, Dee". Russell Malone, Jazz guitarist
5





5

by out of Regina Carter

Review: "I'm trying to figure out what to say and where to start, words feel like they just get in the way. Although The Promise was born out of Dee Daniels's personal journey, the recording is an incredibly beautiful, encouraging, all-embracing and uplifting gift! Dee's dynamic and powerhouse voice is so full of emotion and the rest of the group is all up in there. I am totally moved by this record. Thank you for sharing Dee!" Regina Carter, Jazz and classical violinist, recipient of the MacArthur "Genius" Award and Doris Duke Artist Award, composer, recording artist, educator