Recordings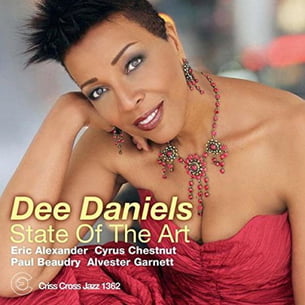 State of the Art
Genre

Jazz / Jazz Vocals

Release Date

2013
Individual Tracks
01 Almost Like Being in Love.mp3
03 I Wonder Where Our Love Has Gone.mp3
04 I ve Got You Under My Skin.mp3
05 I've Got You Under My Skin.mp3
06 Why Did I Choose You.mp3
08 Willow Weep For Me.mp3
Dee Daniels celebrates the release of her new and long-awaited cd, State of the Art, on Holland's globally renowned Criss Cross Jazz Records label. The release makes Dee the first vocalist/leader in the 30+ history of the label. The band personnel is Cyrus Chestnut, piano; Eric Alexander, tenor; Alvester Garnett, drums; and Paul Beaudry, bass. The cd has 12 uniquely arranged jazz standards, some of which have been less recorded over the years. The maturity of Dee's voice brings out the depth of story in each song as though she were involved in a very private conversation with the listener. Join in those conversations by purchasing your copy of this well crafted cd, State of the Art.
Reviews -

5

/5 from

5

reviews Write A Review
Sort Reviews by: Date | Rating
Comments
1





5

by out of

Neil Hobkirk

Definitive Statement

Review: Dee Daniels should need no introduction. Unfortunately, she too often does. In a music climate clouded by jazz-singing sound-alikes, a vocalist brave enough to let her affinity for hard bop remain undiluted by easy-listening production values; a vocalist who wields her instrument brashly like a player, exploring extended techniques comparable to the most intrepid trumpeters' and saxophonists'; such a vocalist is bound to appeal foremost to the hard-core jazz aficionado. But given the heights and depths of feeling that Ms. Daniels accesses through her phenomenal vocal range, and the compulsively limb-engaging swing that she and her musicians whip up, her appeal should be obvious to any pair of ears. Like Jeri Brown and Ranee Lee, two other singers with unashamed virtuoso leanings, Dee Daniels is an American who relocated long-term to Canada.
2





5

by out of

C. Andrew Hovan

Criss Cross Jazz Roundup

Review: The life experiences of vocalist Dee Daniels have taken her literally far and wide, from her early childhood in Seattle to five years spent in the Netherlands back in the mid '80s. Coming from a gospel background, the Oakland native now resides in Vancouver and can add to her resume the distinction of being the first vocalist to appear on the Criss Cross imprimatur. State of the Art, in its selection of a dozen choice standards, speaks volumes to the talents of Daniels and begs the question as to why it's taken so long for her to make this definitive statement. Clearly, she sounds confident and poised and producer Gerry Teekens can be proud of the results. Pianist Cyrus Chestnut and his trio can take some credit too for creating the perfect setting, along with Eric Alexander, who sits in on a few numbers too. It's telling that on "Cherokee," a number that usually sports a breakneck tempo to test the tenacity of its explorers; Daniels opts for a ballad statement.
3





5

by out of

Earshot Jazz Review

Steve Griggs

Review: A recording of standards by vocalist Dee Daniels, State of the Art on Criss Cross Jazz is not neophyte music bending the boundaries of genre but rather a solid statement of mature personal artistry. The great thing about Daniels is her sound – unique, dark and warm – and it fills every track. Her tone emanates from deep within her torso, her heart to be exact. Her voice is so enchanting that the words she sings almost don't matter. Almost, but she does respect the lyric. Her inflections don't ignore the songwriter's words – they add color, spirit and soul. Daniels embodies the music, the sound becomes flesh. Because the repertoire of standards is so familiar, listeners are free to marvel at the evergreen youthfulness and world wise breadth of Daniels' life experience in her interpretation. She was belting jazz from the Seattle Opera House stage way back in 1974, circling the globe on her talent as she grew.
4





5

by out of

Dusty Groove

The Jazz Chill Corner

Review: Excellent work from Dee Daniels – a singer who's been on the scene for more than a few years, but who really seems to be hitting her stride these days! The set's got Daniels sounding tighter and more focused than ever – working with an excellent small combo that features Eric Alexander on tenor and Cyrus Chestnut on piano – both players who help bring a bite to the music that really seems to pull a lot out of Dee's vocals! The set is actually the first-ever vocal session for the Criss Cross label – but feels like some lost set of soulful jazz from years back – the kind of set that some of the better indies used to give us back in the 80s and 90s, but which so few seem to be able to deliver these days. Dee's great throughout – on the money, and really able to bring new life out of familiar tunes that include "Summer Wind", "He Was Too Good To Me", "Almost Like Being In Love", "Lover Man", and "Why Did I Choose You".
5





5

by out of

George Fendel and Jessica Rand

Jazz Society of Oregon

Review: State Of The Art; Dee Daniels, vocals. You are the president of a well-respected, 30-plus-year-old jazz label called Criss Cross Records. During that span you have issued over 300 jazz recordings, and every single one has been an instrumental affair. So this release by singer Dee Daniels marks a first for the label and certainly something of an honor for her. Daniels is surrounded by a quartet that includes two young veterans in Eric Alexander, tenor sax, and Cyrus Chestnut, piano; and two newer names, Paul Beaudry, bass, and Alvester Garnett, drums. She has been singing songs like those heard on this album for many years, and all of that experience is evident in her phrasing, feeling, and overall delivery. Let's put it this way: you know it when you hear it, and Dee Daniels, with no compromises, is a pure, real deal jazz singer.