Recordings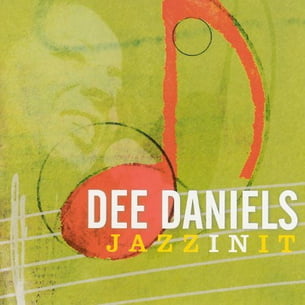 JAZZINIT
Genre

Jazz / Jazz Vocals

Release Date

2007
Individual Tracks
04 What a Fool Believes.mp3
Familiar songs that are not "jazz" standards, but rather bona fide standards from other genres, with fresh, hard-grooving arrangements.
Reviews -

5

/5 from

5

reviews Write A Review
Sort Reviews by: Date | Rating
Comments
1





5

by out of

Christopher Loudon, Jazztimes

Jazzinit (Origin)

Review: When, to borrow a skill once credited to Dee Daniels by Leonard Feather, you "soul-fry" a batch of pop hits, are you jazzin' it or putting jazz in it? Such is the intentional double entendre that ignites this magical assortment of hits old and (relatively) new from the Vancouver-based songstress who Houston Person rightly calls "the jazz world's hidden treasure." And, given Daniels' well-established jazz cred and her obvious ability to hammer some bluesy sass into even the most resistant of tunes, the titular debate is moot. Apart from the eight-decade-old "Deed I Do," which Daniels bathes in a bubbling pool of bossa-spiked hot sauce, most of the selections date from the '50s through the '80s. But what she does to them is anything but retro. Daniels bursts through the gates with a percolating rendition of Earth, Wind & Fire's "Can't Hide Love," slows to a smoldering crawl for a stunning reading of Stevie Wonder's "Another Star," injects Lionel Richie's saccharine "Hello".
2





5

by out of

Marke Andrews, Vancouver Sun

Vancouver jazz vocalist Daniels has all the tools - range, power, taste.

Review: Vancouver jazz vocalist Dee Daniels reworks pop songs from the past half-century on Jazzinit, a title designed to make the listener ask: "Does she mean Jazz in it, or Jazzin' it?" The answer is both. She and the backing trio (Tony Foster on piano, Russ Botten on bass, Greg Williamson on drums) kick things off with a hard-swing rendition of the Earth Wind & Fire R&B number, Can't Hide Love, making it sound like it was written for jazz quartet. Stevie Wonder's Another Star receives a ballad treatment, and the Doobie Brothers song What A Fool Believes has an Afro-Cuban feel punctuated by shots from the band. As always, Daniels owns each song she performs. She has all the tools - great range, power, taste and interpretive command, and when she takes a familiar song in a different direction, it feels just right. She belts out the Everly Brothers number Bye Bye Love, making you feel the lyric "hello emptiness."
3





5

by out of

Carl Anthony, Music Director,

Dee Daniels JAZZINIT Review

Review: Dee Daniels uncovers the Jazzinit as she skillfully interprets the stories of American composers Stevie Wonder, Elvis Presley, James Taylor, Lionel Richie and Otis Redding among others, thus ushering these authors into the echelon of past contributors to the great American songbook. Refreshing!!!
4





5

by out of

Joost van Steen

Dee Daniels JAZZINIT Review

Review: A special word to all the youngsters inspired to discover Jazz and it's meaning... Dee Daniels, together with musicians Tony Foster - piano, Russ Botten - bass and Greg Williamson - drums, has created the ultimate example for you all with her new CD, "JAZZINIT". Her vocal skills, the skilled and complimentary accompaniment of the musicians, and the great song selection on this CD perfectly describes the slogan of the second hour of my Jazz & Blues Tour radio show... Lean Back and Enjoy. Rest assured, that is exactly what I did when I first listened to JAZZINIT. It is my pleasure to put this beautiful CD 'on air' in my program!
5





5

by out of

John Stevenson

Interpreting a New Lyrical Canon

Review: Every now and then, the art and craft of jazz gets a kick up its rear end. Put more politely, it is updated from time to time. A small number of jazz instrumentalists and vocalists do this by planting melodic flags on altogether higher harmonic peaks. With Bebop, for example, Charlie Parker and John Birks Gillespie upended swing's sway with dizzying feats of individual improvisation; Ella Fitzgerald single-handedly transformed the role of the jazz songstress with spellbinding scat singing; Ornette Coleman and Cecil Taylor reconfigured melodic maps aplenty; Sun Ra was one of the first all-round jazz keyboardists, utilising electric instruments long before they were fashionable in a jazz context. These are but a few instances of the way jazz musicians, on their unending quest for creativity and artistic uniqueness, enable fresh breezes to blow through stuffy rooms of aesthetic appreciation.