Recordings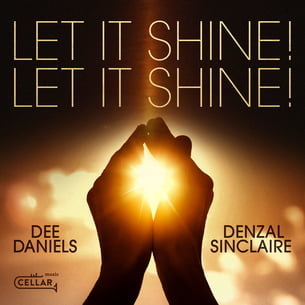 LET IT SHINE! LET IT SHINE!
Genre

Gospel / Inspirational

Release Date

June 2023
Individual Tracks
01 This Little Light Of Mine.mp3
03 Blessings Upon Blessings.mp3
04 I Come To The Garden Alone.mp3
05 Swing Down Chariot.mp3
06 Softly And Tenderly.mp3
08 Row, Row, Row, Your Boat.mp3
10 If He Changed My Name.mp3
11 Every Time I Feel The Spirit.mp3
12 Sometimes It Snows In April.mp3
"LET IT SHINE! LET IT SHINE!" is the new CD by vocalists Dee Daniels and Denzal Sinclaire released by the Cellar Music label (June 2023). The video lets you in on the story of how this unique CD project came to be. Making it happen in the studio with Dee and Denzal are John Clayton, producer, arranger, and bass; Bobby Floyd, Hammond B3 organ; Herlin Riley, drums; and Isaiah Thompson, piano. Listen to their stories...listen to their music!