Recordings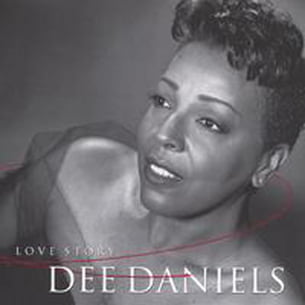 Love Story
Genre

Jazz / Jazz Vocals

Release Date

1999
Individual Tracks
02 I Could Have Danced All Night.mp3
04 Let's Fall In Love.mp3
06 The Masquerade Is Over.mp3
07 What Is This Thing Called Love.mp3
08 I'll Be Seeing You.mp3
09 There'll Be Some Changes Made.mp3
A collection of ten jazz standards that take a look at one love story from beginning to end. Each song is an integral chapter rendered only as Dee can.
Reviews -

5

/5 from

4

reviews Write A Review
Sort Reviews by: Date | Rating
Comments
1





5

by out of Marke Andrews

VANCOUVER SUN

Review: In a city full of fine female jazz vocalists, Vancouver's Dee Daniels has her own place of honour. Self-assured and sensual, her golden timbre lends itself easily to ballads, but she can also swing hard if called upon. She does both on Love Story, a collection of 10 standards, each of which represents a facet of love. Opening with Skylark, Daniels uses vibrato to good effect, laying out a melody that is embellished by the tenor lines of guest saxophonist Houston Person. On Let's Fall In Love, she phrases a bit ahead, then a bit behind the swing groove laid down by pianist Miles Black, bassist Darren Radtke and drummer Blaine Wikjord, at one point turning the word "fall" into a three-syllable utterance, and delivering a line of the bridge in descending notes, like a vocal elevator sliding past floors. Special mention goes to Black for his sensitive piano accompaniment.
2





5

by out of Marvin Lake

THE VIRGINIAN PILOT

Review: The Virginian-Pilot February 11, 2000 Review by Marvin Lake Dee Daniels' indie release "Love Story" arrives just in time for Valentine's Day. The concept album finds the Vancouver native in fine form as she recounts the ups and downs of love via 10 evergreens. Backed by a quartet featuring tenor saxophonist Houston Person, Daniels' warm, four-octave singing embraces the full range of emotions - from longing and fulôllment to disillusionment and wisdom. Daniels shines on ballads. Check out "Skylark," on which Person's long, bluesy, mid-track solo slides over a soft pallet laid down by bassist Darren Radtke, pianist Miles Black and drummer Blaine Wikjord. Daniels' lazy, rich tones convey true longing. Her plaintive reading of "I Could Have Danced All Night" is slower than most, and features an odd vocal-saxophone interplay on the words in the title. Daniels' can swing, too, as evidenced by her sure-footed approach to "Let's Fall In Love" and "There'll Be Some Changes Made.
3





5

by out of John Goodman

NORTH SHORE NEWS

Review: There's a certain risk involved in taking on the standard repertoire but Daniels' fresh interpretations are more than up to the task.
4





5

by out of Ron Rogers

RPM

Review: Given the overwhelming success of Diana Krall in the last year or two, it would only make sense for some of the other majors to start scanning the country for some other jazz crooners. And if they're looking (and I know they are), then they might want to take a chance on this Vancouver native. This indie release, recorded and mixed at Vancouver's Blue Wave Studios by Perry Barrett, features Daniels covering a variety of crooning classics, all of which are sure to be known by serious jazz fans. This is actually a concept album, detailing the ups and downs of love and relationships. As Daniels herself says in the liner notes, "Every love story shares certain things... melancholy... There are as many great songs about love as there are adjectives to describe the feeling." So Daniels has put together ten songs which cover the gamut of emotions, all of them done beautifully by Daniels and her quartet.