Recordings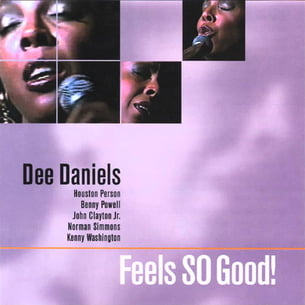 Feels So Good
Genre

Jazz / Jazz Vocals

Release Date

2002
Individual Tracks
02 Song For My Father.mp3
08 Love Ain't Love Without You.mp3
Dee Daniels, jazz and blues singer, has assembled a unique combo of jazz legends - Norman Simmons, John Clayton, Kenny Washington, Houston Person, and Benny Powell - for this offering of standards and originals that sizzle and feels so good!
Reviews -

5

/5 from

11

reviews Write A Review
1





5

by out of

Dirk Binsau

Jazz-not-Jazz

Review: There are jazz singers and there is Dee Daniels! Dee brings a welcome mature approach to the jazz music scene with having obviously studied all the eclectic masters like Ella Fitzgerald, Dinah Washington or Sarah Vaughn, with whom she had the opportunity of singing whilst staying in Europe from 1982 to 1987. Dee has a deep and rich voice that sometimes reminds me of the late Teri Thornton. But Dee's also capable of reaching those high notes (just listen to Love Ain't Love Without You, a song which was written by Dee and on which she also plays the piano). Feels So Good! is a very apt title for Dee's second album on her own Three X D Music imprint, that offers a fine blend of some chestnuts, some less well-known cover versions and original compositions by Dee. And you can hear it on every track that Dee and her musicians had much fun recording this album. Maybe that's why it has been recorded in a mere six hours.
2





5

by out of

Marke Andrews

The Vancouver Sun

Review: When Vancouver's Dee Daniels is on, which is most of the time, few singers can touch her for both technique and expression. She has plenty of both qualities on Feels SO Good!, a recording consisting of six jazz standards and three Daniels originals. You hear the technique on the opener, "Honeysuckle Rose", which begins as an open-time ballad full of creative line interpretations, and then rolls into a rollicking swing tempo, with Daniels interacting with trombonist, Benny Powell. You sense the emotion that goes into all nine tracks, but in particular "April in Paris", where Daniels sings with the ache of a woman who asks, "What have you done to my heart?", and on the 6/8 blues original "Love Ain't Love Without You", where Daniels builds and builds, concluding with one memorable verse where her delivery is almost primal. Daniels has a legion of fans in the Lower Mainland, and I don't think any will be disappointed with this outing.
3





5

by out of

Album Reviews, Robert Reid

The Record

Review: The rich and sultry voice of Vancouver jazz artist Dee Daniels imbued the theme song for the Urban Peasant with a sophistication the CBC cooking show otherwise lacked. Daniels brings that same sense of sassy class to "Feel SO Good", the second album released on her own label. Eight of the album's nine tracks are produced by Daniels, who plays piano in addition to handling vocals. The songs blend six, standards (from Honeysuckle Rose through April in Paris to Horace Silver's Song for My Father) with three Daniels originals She has recorded an album that captures the feeling of live performance - in no small measure because of the talented musicians she has assembled including Houston Person on tenor sax, Benny Powell on trombone, John Clayton Jr. on bass, Norman Simmons on piano and Kenny Washington on drums. "Feels SO Good" sounds so good.
4





5

by out of

Toronto Star

First under "jazz" heading.

Review: This Vancouver vocalist is as sophisticated as they come, and deserves a wide audience for her work - her four-octave voice was heard earlier this year at The Senator. There's more than a touch of Sarah Vaughan and Carmen McRae in her sound and at times she's as vocally acrobatic as Betty Carter on a session comprised of six standards and three originals. She's in particularly fine form on the opening "Honeysuckle Rose", complete with yodel effects, It doesn't hurt that she's recruited a top-notch New York band with estimable tenorman Houston Person and sympathetic pianist Norm Simmons joined by trombonist Benny Powell, bass John Clayton and drummer Kenny Washington. Daniels brings great intensity to Horace Silver's "Song For MyFather", does more than Diana Krall with "The Look of Love", and also plays nifty piano on "Who Can I Turn To" and her own gospel-like, angst-ridden "Love Ain't Love Without You".
5





5

by out of

Peter Lund

CRESCENDO Magazine

Review: In my jazz encyclopedia there are four entries under Daniels - Eddie, Joe, Maine and Mike. There is no reference, however, to Dee Daniels, yet judging by this CD, she is a blues singer of the highest quality. She is responsible for all the arrangements with the exception of Song For My Father, which is arranged by the bassist on the session, John Clayton Junior. Houston Person co-produced the album and was responsible for assembling the highly talented musicians who form the supporting group. Person's wonderful collaboration with Etta Jones is one of the most successful partnerships in jazz but he has done an equally successful job here. Dee Daniels does sound a little like Etta Jones but she has a swinging, blues style which is all her own. All of the songs are given an excellent outing but I particularly enjoyed her version of Anthony Newly's Who Can I Turn To, on which Miss Daniels also plays piano.