Recordings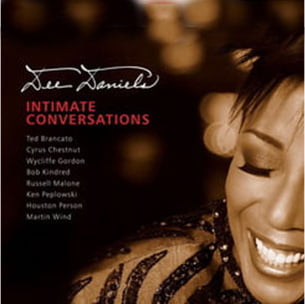 Intimate Conversations
Genre

Jazz / Jazz Vocals

Release Date

2014
Individual Tracks
05 I WHO HAVE NOTHING.mp3
10 YOU'LL NEVER WALK ALONE.mp3
With a palpable authenticity, towering four-octave range, and a powerful blues & gospel-tinged jazz vocal approach, Dee Daniels has built a sterling reputation amongst writers, DJs and jazz fans over the last three decades. Already well represented over her career on recordings with symphony orchestras, big bands, and smaller groups, for her new recording, Dee goes exceedingly intimate. Pairing in duos and trios with eight giants of jazz music – including Russell Malone, Houston Person, Ken Peplowski, and Cyrus Chestnut – she performs a set of ten songs featuring beloved jazz and pop classics like "All the Way", "I Who Have Nothing", to pop hits such as "A Song For You", and Brenda Russell's, "Get Here".
Reviews -

5

/5 from

5

reviews Write A Review
Sort Reviews by: Date | Rating
Comments
1





5

by out of

Christopher Louden

JazzTimes ReviewsVox

Review: Among the current crop of American vocalists, Daniels is, with her four-octave range, surely the most soulful and as close to a modern-day Sarah Vaughan as you're likely to get. Though she and Wind open with a loose, easy "Exactly Like You," this is truly a balladic album with an after-midnight feel. End to end it is a towering study in less-is-more virtuosity: Gordon's trombone trimming a dreamily intense "All the Way," Malone's guitar gently propelling "4AM," Person's bruised shading of "A Song for You," Kindred's puckish emboldening of "Don't Touch Me," Wind's virtuosic transformation of "I Wish You Love," how perfectly Peplowski, on clarinet, and Brancato, on electric piano, punctuate the naked yearning of "I Who Have Nothing." As for Chestnut, his trio of appearances is understatedly stunning: coyly seductive on Daniels' "Come Try My Love," softly assertive on Brenda Russell's "Get Here" and gracefully majestic on the closing "You'll Never Walk Alone.
2





5

by out of

Doug Ramsay

RIFFTIDES Monday Recommendation: Dee Daniels

Review: Accompanied only by Martin Wind's forthright bass lines, the singer sets her story-telling course with the imperishable 84-year-old "Exactly Like You." She and Wind are so convincing again in "I Wish You Love" that this listener found himself wishing for an entire album with just the two of them. However, Daniels is equally effective accompanying herself on piano and coloring "All The Way" with blues feeling as Wycliffe Gordon provides wa-wa trombone commentary. There are other closely held partnerships with clarinetist Ken Peplowski, pianist Cyrus Chestnut, guitarist Russell Malone, electric keyboardist Ted Brancato and tenor saxophonists Houston Person and Bob Kindred. Her and Person's "A Song For You" may make you forget Leon Russell. Daniels is a superb vocal actress who understands phrasing, vibrato, gospel and the blues. She conducts 10 conversations that are compelling, dramatic and, yes, intimate.
3





5

by out of

Chris Spector

Midwest Record

Review: DEE DANIELS/Intimate Conversations: Daniels is one of those jazz singers that's managed a four decade career without most of you ever hearing of her. Spending time in Europe and as part of the ensemble, no matter what the ensemble has been, it's only been recently she's been taking the spotlight. And speaking of taking the spotlight, this is an album of vocal/instrumental duets with some of New York's best jazzbos providing the various notes. With an adventurous set card that isn't easily pigeonholed, Daniels shows you what you've been missing and why insiders feel free to show up and show the love. This is a grand showcase for jazz vocal fans that want it as pure and close to the bone as possible. Hot stuff throughout.
4





5

by out of

Bob Collins - WRHU Long Island

Review: There's certainly a lot of talent on Dee Daniels' new CD – It's first-rate.
5





5

by out of

Mary Kunz Goldman

BUFFALO NEWS (NY) CD Review

Review: Dee Daniels, "Intimate Conversations" (Origin Records). Dee Daniels sang once with the Buffalo Philharmonic Orchestra, and though the concert was in 2002, I remember distinctly how good she was. She brought great emotion to a bunch of Ellington songs, and she sang the heck out of the blues. She was fun to write about, too. It's not every day you can report accurately: "She held that note until it was thin as a ribbon, then fattened it out and pulled it down into the lowlands." In short, it's great to hear from Dee Daniels again after all these years. She is in good company, too. She is joined by musicians including but not limited to Cyrus Chestnut on piano. Wycliffe Gordon on trombone, Houston Person on sax and Russell Malone on guitar. There are tremendous growly sax and trombone solos, almost like another singer, and Daniels responds to that vibe. ("All the Way" has to be heard to be believed.) The atmosphere is gritty and Tin Pan Alley.